Simplistic styling with a contemporary look.
Discover a transitional design with a contemporary look that complements a wide range of styles. Veris hinged entry door systems welcome natural light into the home with a simplistic design available in single and french door configurations.
Confidence in a Complete System
Create the ultimate open-air living experience with superior performance thanks to our full-system approach. With the Veris Collection, each piece is engineered to work together seamlessly.
1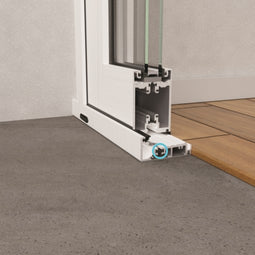 Standard Inswing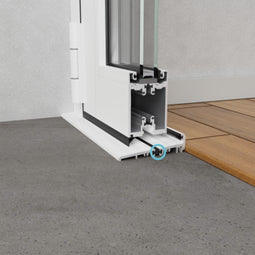 Standard Outswing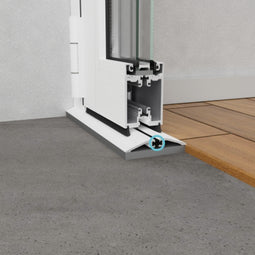 Flush
Thermally broken sills reduce the transfer of heat and cold through the door system for greater energy efficiency while reducing condensation buildup.
Sills are available in standard for water performance and flush for ADA compliance.*
2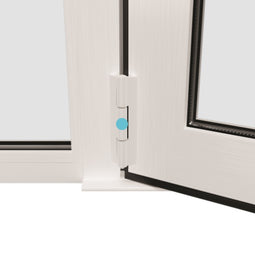 Semi-concealed hinges built into the panels blend with the door system. Manufactured in-house to high tolerances under tight quality control. Color match options are available.
3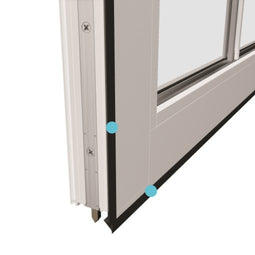 Designed to provide the best possible fit between panel and frame, the weatherstrip helps prevent water and air from entering the home.
4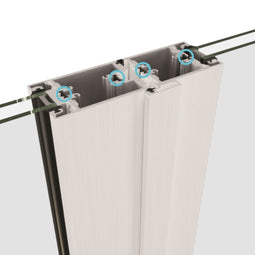 Thermal break design separates interior and exterior aluminum to reduce heat and cold transfer between indoors and outdoors which helps reduce condensation.
5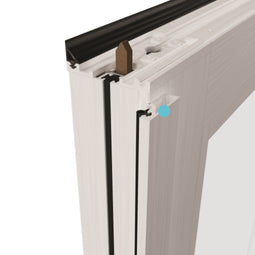 As part of french door configurations, an astragal is integrated into the unit to assist with sealing the door system for better protection from the elements.
*For ADA compliance, the door must provide a minimum 32" clear opening width. Verify all other ADA compliance requirements with your local building code official.
Finish
Choose from an on-trend assortment of finishes designed to complement most homes.
Standard Lead Powder Coated
Similar to semi-gloss finish.

White

Black
Standard Lead Powder Coated
Similar to eggshell finish.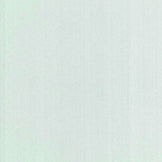 Clear
Dark Bronze
Extended Lead Powder Coated
Similar to semi-gloss finish.

Bone White

Sandstone

Fashion Gray

Charcoal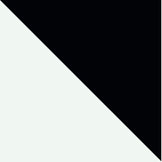 Black / White
Additional Split Finish Options
Choose any two colors to create a split finish that complements the interior and exterior of the home. Available on extended lead time.
Order Finish Samples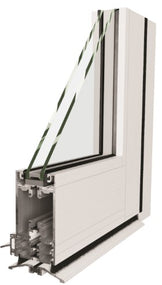 V-2 Systems:
Built for everyday life.
Our V-2 systems are designed to meet the needs for most homes and structures. Featuring our standard components that are quality tested for long-term use, the V-2 system is perfect for residential dwellings in most areas of the United States.
Panel & System Thickness: 2-¼"
Maximum Height: 8'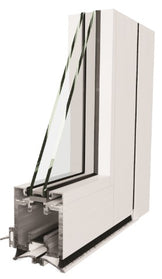 V-3 Systems:
Performance where you need it.
Our V-3 systems are engineered to meet the high-performance needs of specific regions, building codes and commercial structures, and are built to support larger glass panels found in our taller units. With high-performance components that can stand up to heavy-duty use, the V-3 system is ideal for structures and door units that require extra support and stability.
Panel & System Thickness: 3"
Maximum Height: 10'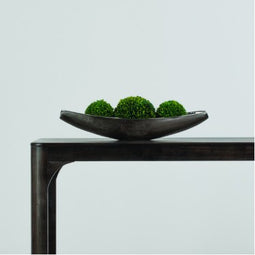 Enhanced Low-E
Blocks 95% of the sun's harmful UV rays, helping to preserve the color and materials of your interior furnishings, draperies and wall treatments.*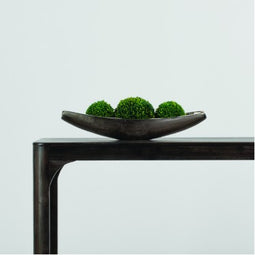 Low-E
Delivers exceptional energy efficiency, retaining heat in the winter and reflecting it in the summer.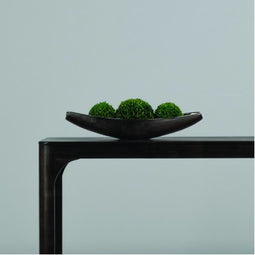 Turtle with Low-E
Tinted gray to reduce interior light projection as required near sea turtle nesting areas. Includes Low-E coating for exceptional energy efficiency.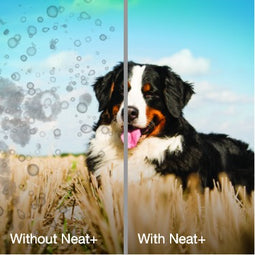 Optional Neat+ Coating
All Low-E glass in the Veris collection is available with Neat+ coating. This low-maintenance coating is designed to help keep glass clear and free of watermarks, reducing the need for cleaning.*
Lifetime Durability & Performance
Designed for easy, worry-free operation, we're so confident in our fully engineered systems that we back them with a 1x transferable lifetime limited warranty for peace of mind. In addition, the finish is covered by a balance-transferable 10-year limited warranty.
View Warranty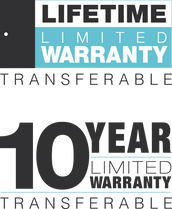 Ready to Get Started?
Request information today and one of our sales representatives will reach out to you as soon as possible!
Files & Drawings
Download files and drawings for this product.